Jackie (Lady Nancy Astor)
Several elements of Viscountess Astor's life influenced her first campaign, but she became a candidate after her husband succeeded to the peerage and House of Lords. He had enjoyed a promising political career for several years before World War I in the House of Commons; after his father's death, he succeeded to his father's peerage as the 2nd Viscount Astor. He automatically became a member of the House of Lords and consequently had to forfeit his seat of Plymouth Sutton in the House of Commons.[6] With this change, Lady Astor decided to contest the vacant Parliamentary seat.
Astor had not been connected with the women's suffrage movement in the British Isles. The first woman elected to the British Parliament, Constance Markievicz, said Lady Astor was "of the upper classes, out of touch".[6] Countess Markiewicz had been in Holloway prison for Sinn Féin activities during her election, and other suffragetteshad been imprisoned for arson.
Astor was hampered in the popular campaign for her published and at times vocal teetotalism and her ignorance of current political issues. Her tendency to say odd or outlandish things sometimes made her appear unstable. On one occasion, while canvassing in Plymouth, she was greeted at a door by a girl whose mother was away. As Astor was unfamiliar with the area, she had been given a naval officer as an escort. The girl said: "…but she [my mother] said if a lady comes with a sailor they're to use the upstairs room and leave ten bob".[14] This is equivalent to £22 in 2016.
Astor appealed to voters on the basis of her earlier work with the Canadian soldiers, allies of the British, other charitable work during the war, her financial resources for the campaign and her ability to improvise. Her audiences appreciated her wit and ability to turn the tables on hecklers. Once a man asked her what the Astors had done for him and she responded with, "Why, Charlie, you know,"[Note 3] and later had a picture taken with him. This informal style baffled yet amused the British public. She rallied the supporters of the current government, moderated her Prohibition views, and used women's meetings to gain the support of female voters. A by-election was held on 28 November 1919,[15] and she took up her seat in the House on 1 December as a Unionist (also known as "Tory") Member of Parliament.
Viscountess Astor was not the first woman elected to the Westminster Parliament. That was achieved by Constance Markievicz, who was the first woman MP elected to Westminster in 1918, but as she was an Irish Republican, she did not take her seat. As a result, Lady Astor is sometimes erroneously referred to as the first woman elected to Parliament rather than the first woman to take her seat in Parliament.
Testing the colour, size and font. Lady Nancy Astor 
Lady Nancy Astor Gallery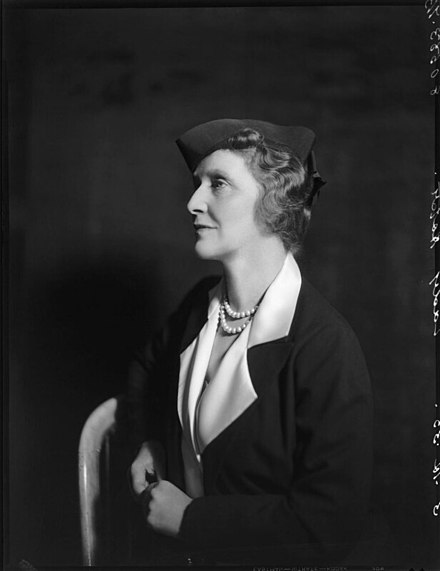 This is Lady Nancy Astor
Born
MP for Plymouth
Churchill
First elected female