First Wrens At Sea
What Was It Like To Be Among The Navy's First Female Sailors At Sea?
In October 1990, the first female Navy personnel to go to sea joined HMS Brilliant in Devonport.Briohny Williams8th October 2020 at 4:57pmoPlay Video
A Royal Navy veteran who was among the first female sailors to deploy at sea with the service says none of them knew what to expect.
In October 1990, the first female Navy personnel to go to sea joined HMS Brilliant in Devonport.
Three months later, they deployed with the Type 22 frigate to the Middle East, as part of the international naval effort in the first Gulf War.
Pippa Gregory is a former Leading Hand in the Royal Navy, and was one of the women on board HMS Brilliant 30 years ago.
"None of us had any idea what to expect at all, what we were letting ourselves in for," she recalled.
"On reflection, we certainly hadn't appreciated the importance of it at the time.
"We were treated exactly as our male counterparts were – quite rightly so, there were no special privileges or anything like that – and we just had to grit our teeth and get on with it."
However, it took some getting used to.
"It was really hard because there were some very negative attitudes towards us, certainly from the start," Ms Gregory said.
Heading to war in the Gulf in January 1991 helped ease any tensions.
"That shared experienced of the whole ship's company really really gelled us and I think changed a lot of those very negative perception of us because we were forced into that environment with them.
"I just feel immense pride and the shared experience that myself and my other female shipmates had – that bond will be with us forever."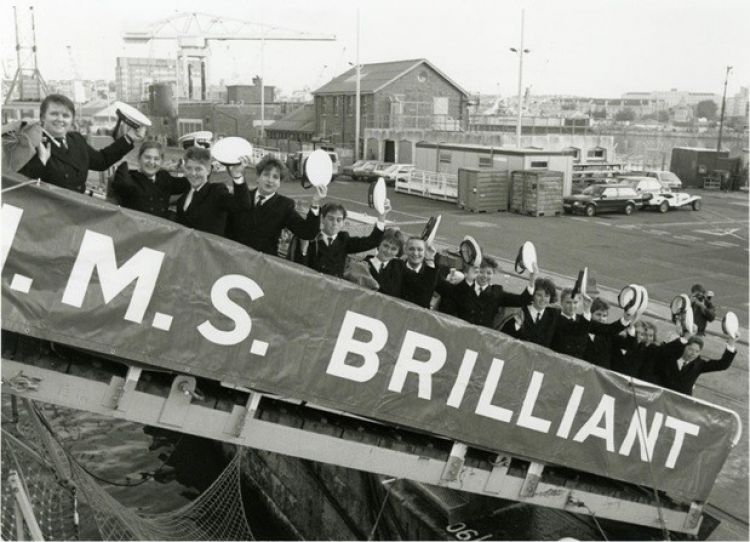 Warrant Officer Fiona Sloan joined the Navy in 1988 as a non-seagoing Wren (Women's Royal Naval Service) – two years before the policy on female personnel changed and women were offered the chance to serve at sea.
She was one of the women who volunteered to go on HMS Invincible in November 1990, shortly after HMS Brilliant.
"I had the opportunity to volunteer and, well, it was a no-brainer because I never thought that I would have that opportunity to go and travel the world," WO Sloan said.
"I joined my first ship then as the first batch of Wrens at sea in November 1990, when 75 of us joined HMS Invincible all at the same time on the same day.
"I don't think they were prepared – the ship – at the time for 75 to join en masse.
"At the time it was very exciting because when I signed that dotted line to go to sea, I didn't actually know what I was signing up for – [being at sea was] all new because it was early days but actually it was a challenging time."
WO Sloan says it may have been challenging but it was also a very exciting time.
"There was a bit of challenging times for us adapting, and also for the guys that were currently at sea on that ship at the time because they needed to slightly adapt their way of life to get us involved in everything," she added.
"It gave me that fantastic opportunity to go and travel which I would never have done if I had stayed as a shore-based Wren."
Suzanne Crawford is an Engineering Technician in Marine Engineering who joined the Navy in 2012.
Despite signing up more than a decade after the first women served at sea in the Royal Navy, she was unable go for the job she first had in mind.
"When I was looking at joining, there were certain branches of the Navy that women couldn't join," she said.
"We couldn't be submariners, divers or Royal Marines.
"Initially, when I wanted to join, I looked at the submarine service but since it wasn't an option, I came into the surface fleet," she added.
"Shortly after I joined, submarine service was opened up to women, which I think is a great change.
"Now the Navy has modernised and allows women to join all of the branches is a really, really good step forwards.
"It's the way the times are going that in the past women couldn't do any of the same jobs as men. All of our career prospects were different.
"My gender doesn't come in to it at work.
"I mostly get treated just as part of the department, so I see myself as a marine engineer rather than a female marine engineer."
https://www.facebook.com/1977772119189871/posts/2776176772682731/