Financial Week In Life Of Submariner
Welcome to Money Diaries, where we're tackling what might be the last taboo facing modern working women: money. We're asking a cross-section of women how they spend their hard-earned money during a seven-day period – and we're tracking every last penny.This week:"I'm a Royal Navy submariner and this is my final week at base before I embark on my third deterrent patrol, on board one of the four ballistic missile submarines which serve as the UK's at sea nuclear deterrent. At least one of these submarines is on patrol under the sea, every minute of every day, ready to respond.
It's a really busy week for me as a logistics officer, as it's my job to make sure the submarine has everything it needs to sail for months at a time, from spare parts to all the food for the crew, not forgetting the loo roll! I also have to conduct 'officer of the day' duties, where I act as the captain's representative, responsible for the safety and security of the submarine. On top of this I need to make sure that I and all my team have sorted all our personal preparations ready to go to sea again, and there is always some last-minute training to do! I joined the Royal Navy a few years ago and was absolutely set on becoming a submariner as soon as the role was opened to women, which happened in 2014. Now I am one of only a small number of women doing this job. I have a great deal of responsibility from an early age and early stage in my career, and the camaraderie on board is great. Plus, I love to travel – prior to becoming a submariner I worked many a retail and hospitality job to fund my travels and thought, hey, why not get paid to travel? I live by myself, splitting my time between a 'cabin' on the naval base and my house in Plymouth. I am in a very fortunate financial position, as I have no student loans (thanks to my parents) and earn around £43,000 a year base salary, but also receive specialist allowances for being a submariner and these go up when I'm at sea. I think I have quite a sensible approach to money, but it does help with savings when you are under the water and can't physically spend anything! I'm currently completely renovating my three-bed Victorian terrace, and the next thing on that shopping list is a new kitchen." 
Industry: Armed Forces (Royal Navy)
Age: 28
Location: Live in Plymouth and work near Glasgow, when not at sea.
Salary: £43,000 base salary, plus allowances and supplements for submarine service. 
Paycheque amount: Base salary shoreside £3,223.13 (includes £394.63/mth submarine pay) plus: £360/mth Get You Home (an allowance the RN provides to compensate me for the mileage between my house in Plymouth and base in Glasgow); £158/mth SM sup (for being attached to an operational submarine which triples when at sea to an extra £15 day). When deployed I also receive Longer Separational Allowance (LSA), known in submarine slang as sea pay, which increases as we spend more time at sea.
Number of housemates: None.Monthly ExpensesHousing costs: £750 (I'm overpaying my mortgage).
Loan payments: £54.87 furniture 0% interest deal.
Utilities: Internet £31.89, water £13, gas and electric £26, council tax £98.
Transportation: £100 petrol and trains (I have an Armed Forces Rail Card which gives me one third discount on all rail travel).
Phone bill: £28.25 
Savings? £800-£1,000 per month.
Other: Home insurance £23.17, contact lenses £26, life insurance £5, TV licence £38 (quarterly), £70 mess bill.
6am: Alarm goes off and I head up to the gym for a training session. Twenty minutes of sprints followed by a kettlebell circuit gets the blood pumping and wakes me up!
7.15am: I head to the mess for breakfast. The staff are great and my 'standard' breakfast of tea, toast and marmalade appears without even asking. It's cheap at £1.23 and goes straight onto my mess bill, which is paid monthly. I'll sit and enjoy some peace and quiet before the day, and generally read the newspaper. As I am tired it's The Sun this morning and I must admit, I'm partial to a bit of 'Dear Deirdre'.
8.15am: It's a mile walk from the mess to the submarine, which is great as long as it isn't raining! One of my team makes me a cup of tea and then it's straight into a meeting with my team of four logistics sub-department heads. We do a rundown of all the last-minute preparations that are taking place and plan the final delivery of food to the boat (submarines are always referred to as boats in the RN). It's a big task but as everyone has to eat, everyone has to help get the food on board! I also get a briefing on a last-minute high priority supply chain issue which we need to urgently resolve.
10am: Cup of tea in hand, I go for a wander around the boat to catch up with my department.
11am: I spend some time with the commanding officer, talking through some disciplinary matters – just one of the hats I wear as the logistics officer.
12pm: Lunchtime! I head up to the mess for a cheese and onion toastie, with some salad and coleslaw. Total cost £3 (on mess bill).
1pm: After lunch I'm needed at the ship control training facility to spend a couple of hours in the simulators. While we've just come back from an intense period of crew training at sea, this is the last chance my colleagues and I will have before we depart on patrol to practise procedures in a training environment. We spend three hours practising emergency scenarios. It's pretty intense and we're all exhausted by the end of it, as we've had our emergency breathing apparatus on for much of the time. Definitely time for a cuppa!
4.30pm: A quick trip into town to stock up on magazines for the ship's company to read when we're on patrol. I go mad in WHSmith and come out with over 100 – I need to cater for a wide range of hobbies! I pick up a few for myself to read, too (£11). I'll be saving these for Sundays at sea – much as I love Refinery29, there's no internet on the submarine when on patrol, so I have to rely on magazines.
6pm: Back in my cabin I do a massive online Boots shop. It's amazing how many toiletries you need to take with you for a patrol. I make sure I have everything from paracetamol to shower gel, wet wipes to sheet masks (my Sunday afternoon treat – I get into my rack (bed) during my few hours not on duty during the day, put on a movie and a sheet mask. It's the simple things!), and my basket gets very full, very quickly. Will definitely be getting this delivered to the base! £131.68 (and free delivery).
7.30pm: Going out for supper and cocktails in the local town with some of the other female submariners, can't wait! It's nice to be able to socialise outside of the working environment. Taxi (my share) £5 both ways. Supper and cocktails £46.
Total: £202.91 
6am: Wake up to a text from a mate asking me to a school reunion weekend next month. I can't go as I'll be under the sea! My friends understand and are used to me disappearing for months, but it's the biggest downside of this job. The long periods of separation from friends and family mean I have missed birthdays, weddings, births and Christmas festivities. But the job makes the long separations worth it as I love what I do, and the people I work with.
7.30am: I'm on board early this morning, waiting for our food delivery, having snaffled a bacon butty (£2.50) from the base's shop. I am desperate for a cup of tea though; my body doesn't function without caffeine. I've tried to give it up but I just can't. Maybe one day.
8.15am: The food lorry is on time! We use a fairly old school method – the giant human chain – to get the food on board the submarine, with the ship's company lined up from the jetty to the onboard freezer. I've roped in a troop of the Royal Marines who protect us and the base to help – they're super fit for their jobs so see it as free exercise and are soon running up and down the chain with sacks of potatoes. My key role is checking the quality and quantity of each pallet as it arrives with the chief caterer, but I always get involved in the chain too – you have to muck in and practise what you preach when it comes to leadership!
12pm: We start letting people take a break from the chain for lunch. Cheesy hammy eggy (a naval tradition and seriously tasty) is on the menu today, with chips and beans. It's bread topped with ham and cheese, then grilled and finally a poached egg is added.

3pm: All the food is on board. We sort out some final health and safety paperwork and then I leg it back up to my cabin to shower and change.
4pm: Made it on time to catch the base bus to the airport. Headphones in and relax, I'm going home!
5.30pm: Dinner in the airport while I wait for the flight to Bristol. I go vaguely healthy with a Greek wrap and sparkling water (£11.50), then ruin it all with a Starbucks brownie (£1.99).
7.45pm: Get myself a hire car for the next few days. I couldn't face the drive all the way from Glasgow to Plymouth and back just before sailing. Result – am given a BMW 3 Series automatic! Time to cruise home. £119.68
10pm: Home! I haven't made it back in a couple of months so have a lot of post to deal with. Luckily, I have great neighbours who keep an eye on my house and even put milk in the fridge for me when they know I'm coming home. So, shower, cup of tea and crash out. I have missed my bed SO much!
Total: £135.67
3 OF 8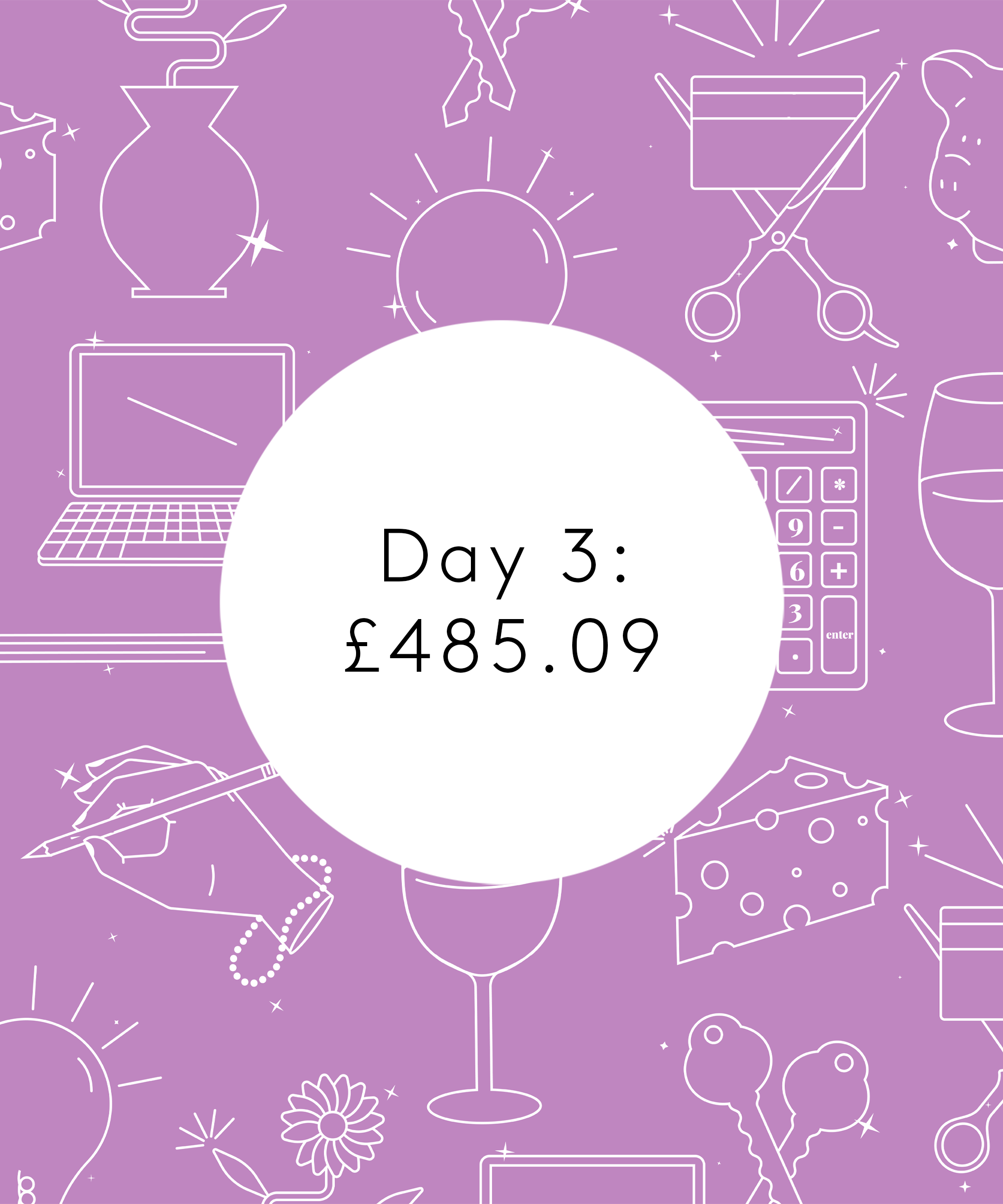 10am: Lie-in, YES PLEASE. I woke up about 9am but spent an hour lounging with a cuppa and a good book and some Nairn's chocolate oatcakes. Total guilty pleasures. My boyfriend is at sea so I have the whole kingsize bed to myself!
10.45am: Beautician's. I have the best beautician who is really chatty and never makes it awkward, even when she's terrorising you with hot wax. I go for the full works: eyebrows, HD lashes, waxing, manicure and pedicure. £158 + £10 tip.
2pm: Late lunch in town. I meet up with one of my mates for a good catch-up on all her news. We go to a place down at the harbour and I have the chef's breakfast: baby potatoes, caramelised onions, spinach, poached eggs, tomatoes and toast and the customary cuppa. £10.50
2.30pm: We hit the town. I buy a ton of things from Primark (£45), then pause to pick up my favourite natural dry shampoo (£13) on the way to Waterstones. We can't have any aerosols at sea as we make our own air on the submarine – think of it as needing the same kind of life support systems as a spacecraft. In Waterstones, I pick up a new diary for sea (£23.99 – Moleskine is my favourite) as I find it helps keep you in good mental health when submerged to have somewhere to write down your feelings. Then I go to Hotel Chocolat to buy their six-pack tasters/miniature solid slabs (chocolate is also part of good self-care on patrol), plus one big one to leave for my boyfriend (£56). Finally, I pop into TK Maxx to see what amazing bargains they have and come away with some Christmas presents for friends (£67). I like to buy them throughout the year when I see things that suit – saves the mad panic in the run-up when I'd rather be partying!
5.45pm: Pay car parking. £11.80
6pm: Home and time for a bath. I had my bathroom completely revamped during my first patrol. I basically gave my keys to the builders with a wad of cash and was like, please don't let squatters in and you have no means of contacting me for the next few months! Luckily, it turned out beautifully, and they even built me a yellow submarine toiletry holder. And yes, I do have a wind-up submarine for the bath.
7.30pm: Taxi into town (£7) and it's Japanese for dinner with a friend. Crispy duck rolls and beef yakitori followed by steamed rice and teriyaki chicken, YUM (£36.80), then out for espresso martinis. £36
1.30am: Taxi home (£10), water, teeth, bed.
Total: £485.09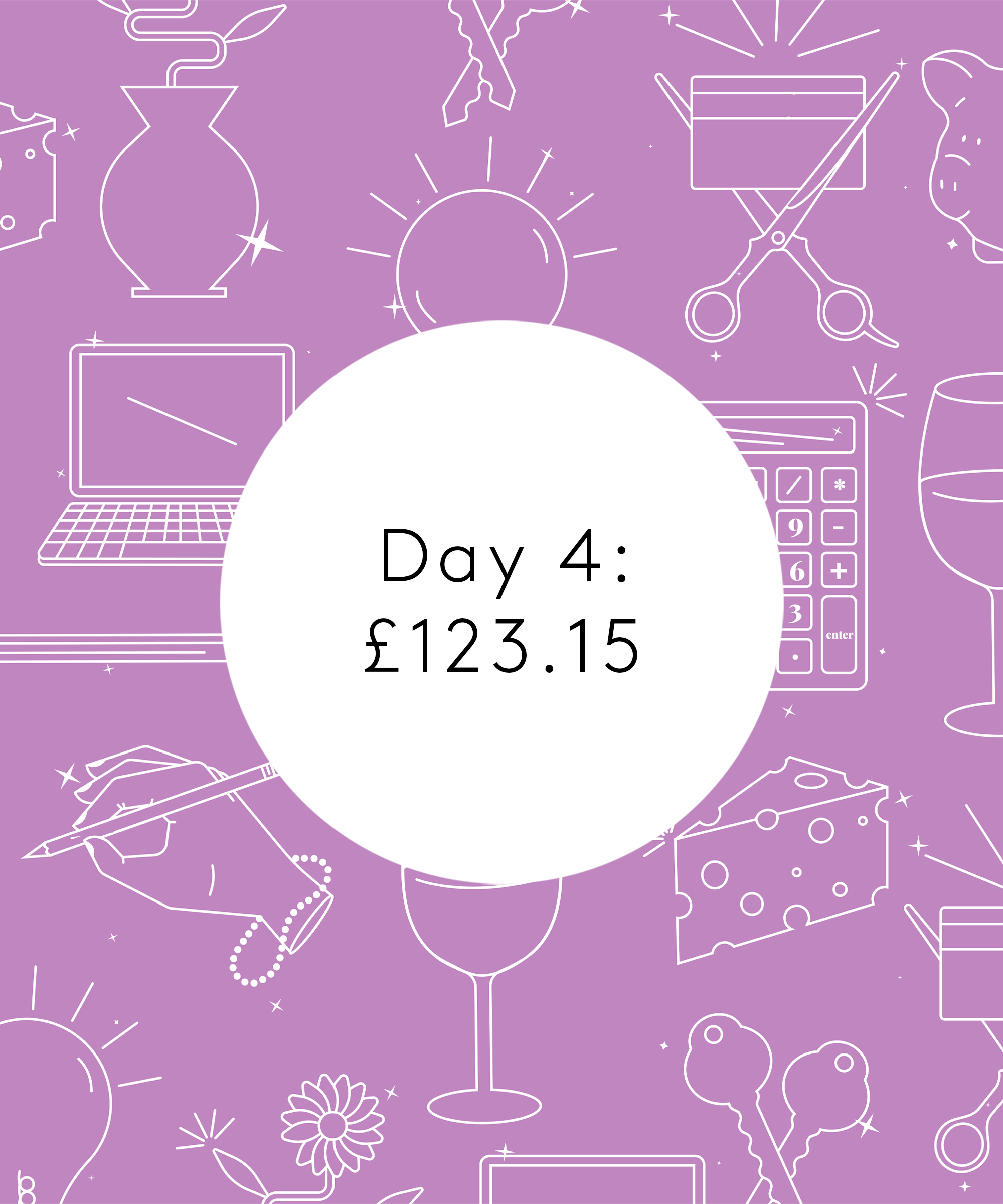 9am: Up a bit earlier this morning to get to the gym before the hairdresser's. Decide to walk into town as it's such a nice day.
10.30am: In desperate need of a haircut, I haven't been in about six months as the maintenance period on board has been so busy. I cut my own hair on my last patrol as I was so fed up with it and faced some serious wrath from the hairdresser on my return, so thought it was best to come before I sail this time! (£75 + £10 tip.) I spend the time reading magazines and looking at kitchen ideas on Pinterest.
1.30pm: Lunch at a cool little café next to the hairdresser's. A big bowl of soup with homemade sourdough, tea and a vegan chocolate cupcake. £10.75
2pm: Go for a quick look at a charity shop as I love spotting a bargain. They're selling four books for £1 so I pick up eight (I read horrendously fast – £2). I then find a nice vase for the spare room (£3.50) and a summery top from Principles (£4), before I spot a really cool copper photo frame at £2.50.
2.20pm: Taxi home (£6.50) and I have just enough time for a cup of tea before I head back to Bristol Airport.
5.30pm: Airport supper once again. Bristol has a little bit more choice and I get a small pulled pork burrito loaded up with guacamole and a San Pellegrino blood orange (£8.90). I found an app where I can download music for free (you lose Apple Music after 30 days at sea) and spend the time downloading tracks, basically anything that's upbeat and can put a smile on your face if you're having a bad day at sea. We also have a huge music library on board and during our few hours off, we sometimes put '80s classics on and dance around the wardroom (where the officers on the submarine have their meals and socialise) like idiots, laughing at each other.
8pm: Base bus back (they put a free shuttle on that runs pretty regularly, as the base is a bit in the middle of nowhere).
9pm: Time to unpack, repack my bag for duty, cup of tea and then iron my uniform.
10pm: Bed with a book.
Total: £123.15
6am: Am on duty for the next 24 hours in the role of officer of the day (OOD). This means I act as the captain's representative on board and I'm responsible for the safety and security of the submarine, the nuclear reactor, nuclear weapons it carries, the crew and all contractors on board. It's a massive privilege to be entrusted with such a huge responsibility.
6.30am: Once I'm ready, I walk down to the boat and conduct rounds of the jetty and the upper deck of the submarine, looking for hazards or anything that is out of place. Once I've done this I do a full set of rounds on board, and check multiple logs to ensure I am happy to take the submarine from the outgoing OOD. We then conduct a formal handover process, discussing all the previous day's major changes and maintenance, and what is planned for today.
8am: I am happy to take the boat so I go to the control room to make a formal submarine-wide pipe (announcement) stating that I am OOD and responsible for the boat for the next 24 hours.
8.10am: Breakfast in the wardroom: poached eggs on toast, bacon and beans with tea to wash it down. All our meals are free on board when on duty.
8.30am: I sit in the submarine's control room and a steady stream of contractors start arriving to do maintenance work on the boat. A ballistic missile submarine is an incredibly complex vessel and a challenging environment to work in that could be hazardous without strict controls, so we take safety and security very seriously. As the OOD I am personally responsible and liable for the safety of all personnel while on board, so it's very important to me that I'm on the ball all morning, whether I'm in the control room or on one of my many rounds of the boat to check on safety and security.
12pm: Lunchtime. I'm starving and need to eat quickly to get to my next set of rounds of the boat. You don't realise how many steps you take just getting about the boat. I wish I could wear a tracker but because security on board is such a high priority you aren't allowed any personal electronics on the boat. But the way I see it, calories don't count when you are on duty! I have a tasty baked potato with tuna, beans and cheese, and lots of salad. Trying to get in as much fresh food before we go to sea and we switch to canned, dry and frozen.
2pm: Back to the control room. As this is a final maintenance period before we head back to sea, I'm not expecting much maintenance work to continue past 4.30pm so the boat should be fairly quiet from then onwards, with just the duty watch on board.
4.30pm: I decide that we need to practise an emergency scenario, which is known as a heave in submarine slang. After a chat with two other officers to plan how we're going to test the crew, we decide to run through the response to a fire in one of the missile compartments. One of the officers sneaks over to the missile compartment, starts shouting "Fire, fire, fire" and the heave gets underway as the boat's alarm begins sounding…
5.45pm: Finished the heave. The crew did really well and I give them some feedback. We practise heaves every day as it's important that we're ready to deal with any incident that could happen and it's important we make the training as real as possible. I made all the crew heave on Christmas Day last year and I still don't think they have fully forgiven me but in my mind just because it's Christmas doesn't mean standards can fall!
6.30pm: It's curry night tonight as it's Wednesday. I'm not much of a fan though, so the chefs make me a ham, tomato, pepper and cheese omelette (there are definite perks to being their boss). We then have apple crumble for duff – naval slang for dessert.
7.15pm: To the stores office, which I usually work from to catch up on paperwork. I do a surprise cash inspection of the accounts, a stores item check and finalise some personnel reports for an upcoming promotion board. They need to be submitted before we sail and lose connectivity to the outside world.
10.30pm: More rounds of the boat, followed by tea and chocolate digestives. I'm expecting divers to work on the boat's exterior from midnight, so I fill out the forms to allow certain valves on the boat to be shut to make it safer for the team to be underwater. I remember how nervous I was for my first ever duty. Now I have done so many, I am very confident in my ability and that of my team around me, but the need for vigilance and high standards always remains when working in this environment, no matter how many duties you have done.
11pm: I sit in the control room and spin dits (RN slang for gossip) with some of the duty watch. The crew are such a good bunch and I love working with them. They manage to get up to the most ridiculous antics in their spare time, so they always have a hilarious story to tell!
Midnight: More rounds. I do them at midnight and the duty senior rate does them between 2am and 6am so we can get some sleep in between.
Total: £0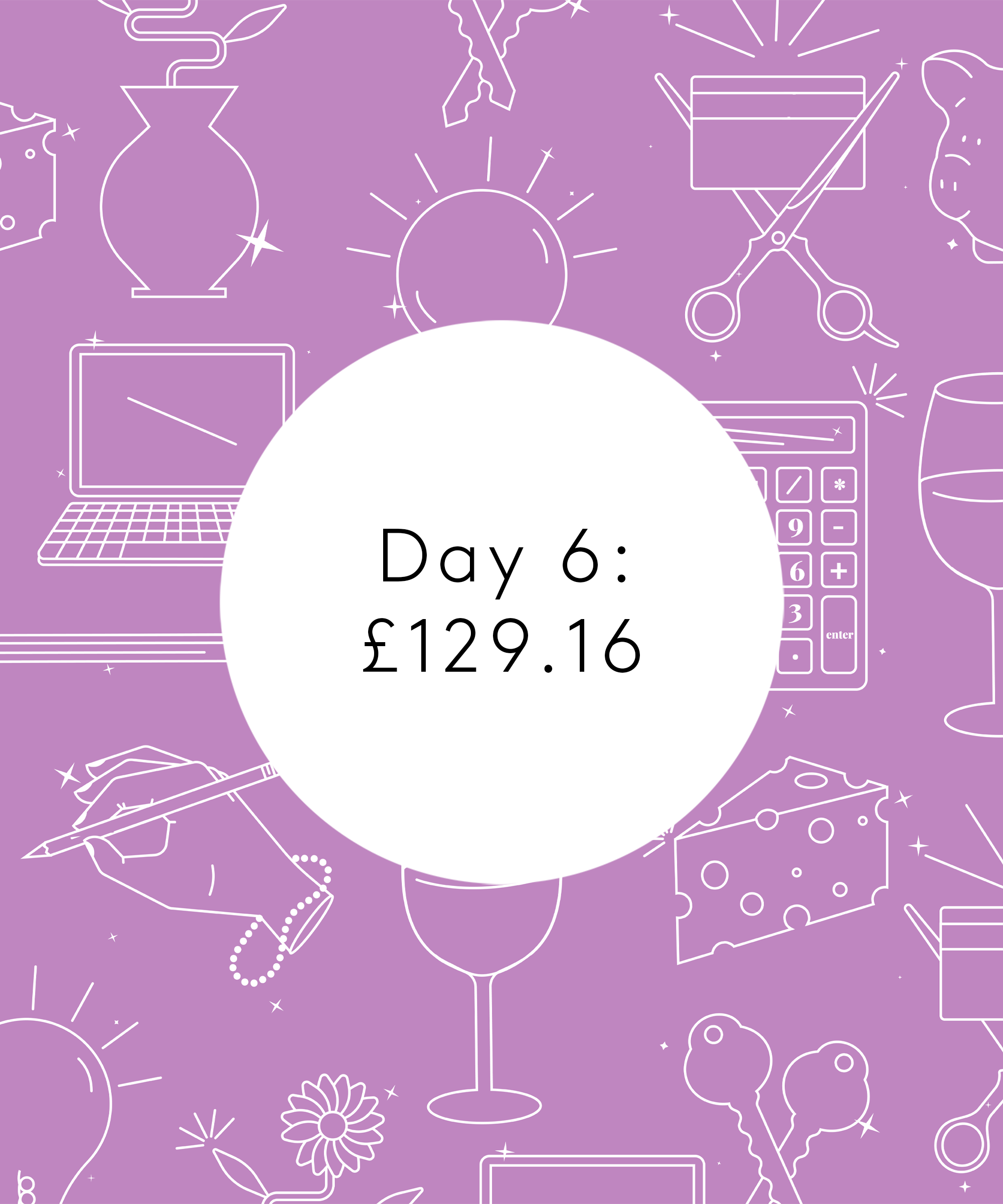 Day Six
1am: Was just about to get into bed in my PJs when the divers arrive and the crew call my cabin. I head up to the upper deck in a seriously fashionable combo of work shoes, PJ bottoms, work shirt and hard hat. Nailed it – I'd probably fit right in at London Fashion Week!
1.20am: BED.
2.30am: Fire detection alarm goes off – I'm woken by the pipe and straight into overalls and to the control room. We investigate, and it's a false alarm.
3.17am: Another fire detection alarm. Another control room dash. This time it's the steward coming off watch from the upper deck and burning their toast!
4.42am: The crew shake me; the divers are finished and I need to sign off the paperwork and order them to reverse the valve shut-offs I authorised earlier.
5.15am: Another shake. Urgh. I am sad-faced right now. The quarter master has just called and is worried about our draft marks (lines on the boat's hull which tell us how low we are sitting in the water). I tell the panel to begin adding some extra air to the main ballast tanks earlier than I directed in my night orders to mitigate. I give up thinking about going back to bed and have a quick shower. At sea you are only allowed 30 seconds each (turn on, get wet, turn off, soap up, turn on, rinse off, turn off – you get the picture) but alongside in port the restrictions aren't quite so bad.
5.30am: TEA IS DESPERATELY NEEDED. Carry out a morning set of rounds and chat with the crew before I write up my handover documents for the oncoming OOD.
8.15am: Handover complete. Straight to the office (via the galley for a bacon and fried egg butty) where I spend the next few hours making sure we are ready in all respects to sail for patrol.
11am: Head over to our stores area for a chat with my chief. He won't be sailing with me, instead he will stay behind to make sure that all the stores are ready for the next maintenance period when we get back. I conduct compliance management checks on the stores account with him, and eat far, far too many Jaffa Cakes.

1.30pm: Up to the mess for lunch. It's Friday, so it's fish and chips with mushy peas (£4.50). Pick up my parcel of toiletries and spend a satisfying half hour removing all the packaging so they don't take up as much space in the cabin.
2.15pm: Shower and nap time. Last night's lack of sleep is catching up on me.
4.30pm: Jump in the car and head to Waitrose. It's time to stock up on nutty (Navy slang for sweets/chocolate). Imagine the zombie apocalypse is coming and you need to stock up on comforting junk food – that's basically my trolley. Favourites are San Pellegrino sparkling water, Waitrose double chocolate cookies, Robinsons concentrated squash, elderflower cordial, popcorn, Marmite, Whole Earth peanut butter and McVitie's chocolate digestives. Walkers coated nuts are also really addictive, and I buy a ridiculous amount of Haribo. Last but not least, Mr Kipling French Fancies and cherry bakewells. Wince slightly at the bill – would have gone to Lidl but it's miles away and hey, going to sea tomorrow so subsequently I don't really care! £92.68
6pm: Meet up with a friend for an early supper at the tapas restaurant in town (£31.98). She gives me a parcel with letters and presents, one to be opened every week. It's such a morale boost and really kind of her. I've always been really lucky with my friends, they are so supportive of what I do.
8pm: Back on base and I park my car in the multistorey, then head over to my boyfriend's car to decorate it. I have made welcome back bunting, which I string up inside, and leave a goody bag of beers, Hotel Chocolat and a letter, as well as a dinosaur teddy bear hahaha! He is on the boat that we will be relieving, so by the time I get back we won't have seen each other in a while. While we're away, the people we leave at home get to send us 120 words a week, known as a familygram and you can't reply from patrol. Soon it'll be his turn to send me the messages.
9pm: After packing all the Waitrose treats into my bag I get an early night. This will be my last full night of sleep until I get back from patrol. When at sea, we go into a watch system of six hours on, six hours off, so I fully intend to make the most of it!
Total: £129.16
6.30am: Whooooh sailing day! I send texts to everyone I love (parents, boyfriend (he should pick it up on his return) and besties) to tell them I love them and won't be seeing them for a while. I tend to use code so it isn't obvious I am talking about a submarine departing.
7.15am: I have a yoghurt in my cabin then get the base bus down to the boat as my bag is pretty heavy! While I've taken bits down already, my bag is full of everything I will need for a long patrol. I alternate between uniform, PJs and sports kit, so I don't need many clothes, but I am regretting bringing so many snacks now. Manage to get it down the hatch fine and lug it into my cabin – will unpack it later.
9.20am: One of my sub-department heads reports to me that all my department are on board, and I brief the executive officer that the logistics department is ready for sea.
11am: There is a general hive of activity this morning as final pre-sailing checks are completed and reports sent off before we all close up at 'harbour stations'. This is 100% manning of the submarine for entering and exiting harbour and I head to ship control, which is my role during this. Here I am responsible for the buoyancy, the rudder control and major boat support systems.
11.30am: Let go all lines…and we're off! I love this moment – all the hard work and efforts of the crew and the whole nuclear enterprise who support us has paid off.
Total: £0
Food/Drink: £354.33
Entertainment: £36.99
Clothes/Beauty: £446.68
Travel: £164.98
Other: £73
Total: £1,075.98
Conclusion
"I know I have spent quite a lot this week and diarising it has made me think about it a bit more than I usually would, as I wouldn't normally even give it a second thought, especially in the week before sailing. Really though, I suppose I am stocking up in one week on enough toiletries and snacks to last for a while, as well as getting a hire car and final meals out with friends and colleagues. Normally in the main maintenance periods at base I barely spend any money (less than £100/week I think) as I am on the boat for all hours, either duty or just doing my day job. It does make me realise how fortunate I am though, that I am doing a job I love, which is significant to the security of the country and which also gives me a good level of financial freedom. If I am honest, I am already planning all the things I will be buying when I get back!"